We don't think so. But we do think that the more you know about your router, the more you'll enjoy using it in your own shop.
Introduction to the Router
Introduced early in the 20th century, the first portable electric routers were large, heavy machines used mainly in production applications. The basic router concept, a cutter attached to the vertical shaft of a high-speed electric motor, has changed very little since that time, and routers from back in the 1920s look surprisingly similar to the tools available today.
But, as we all know, looks can be deceiving. Modern routers have many technical improvements that make them lighter, easier to handle, and more accurate than their predecessors. These refinements, and the wide range of bits and accessories used in routing, have made routers the most versatile and popular power tool in woodworking today. Routers are ideal for both simple and complex woodworking joinery, including mortise and tenons, dovetails, dowel joints, box joints, and tongue and groove joints.
Special cutters and accessories produce decorative edges, sign lettering, and even complex designs and patterns that simulate hand carving. Routers can even be used to cut synthetic materials such as plastics, MDF (medium-density fibreboard), and light, non-ferrous metals.
If you're a woodworker, you've probably considered buying a router, or perhaps you already have a basic model which may no longer suit your needs. With the wide variety available, it can be confusing to make a choice, and there's no single model that's perfect for every job. So, most professional woodworkers (and even serious amateurs) usually decide to buy more than one router.
Once you've decided to make your purchase, how do you pick the right product? Here are some guidelines that should help.
There are two basic router types available today: fixed-base (also called "standard" or "shop" routers) and plunge-base. Both will perform virtually any common routing task, but there are advantages and disadvantages to each.
Fixed-base routers consist of a motor which is clamped securely in a base, while a plunge router's motor moves vertically on a pair of spring-loaded posts attached to the base, allowing the bit to be "plunged" into the workpiece and retracted without lifting the tool. With a plunge router, it's easier to make through cuts (such as panel openings), stopped dadoes, deep grooves and mortises, template pattern work, and operations which require multiple cuts.
On the minus side, the plunge router is usually a bit more top-heavy, and since the handles are fastened to the motor, some users find them trickier to maneuver and adjust.
Many users still prefer the simplicity and compact design of fixed-base routers, and newer models often incorporate more sophisticated features that make them easier now to set up and use. However, for plunge cuts, the fixed-base router must be tilted into the workpiece, which takes a little practice to master. But for general use, they are often good choices for the home workshop. And most professional woodworkers own at least a few of these.
Size & Capacity
Two main things to consider in a router purchase are horsepower and bit shank capacity. For models, hobbies and crafts, and light decorative woodworking, a small router or trimmer of 1HP or less works quite well.
If you plan to do more challenging projects, work with hardwoods, or use the tool for shaping and forming operations in a router table, a router with 1 3/4 HP or greater and 1/2-in. bit shank capacity is a better choice. You'll need the additional power for deeper cuts or making cuts in one pass, and the 1/2-in. bit shank capacity lets you use a wider range of bits while minimizing "chatter" when cutting denser materials. Construction
For light-duty or occasional use, a lightweight router with an all-plastic motor housing will work just fine. If you are a serious woodworker, you'll want a router which has a durable metal housing on the drive end of the motor to support the side loads generated by larger bits and heavy cuts.
To maintain high strength without adding much weight, high-quality routers use materials that are tough and durable without making the router difficult to hold and maneuver. The Bosch 1617EVS (available at Lowe's) is a 2 HP, 12 amp fixed-base machine that delivers high performance, but weighs only 7.7 pounds, thanks to all-magnesium housings. Both bearings are mounted in metal for long life. This type of construction will give you years of dependable service for most routing applications. Electronics
Many higher quality routers now offer electronic features, which expand usefulness and improve handling. The electronic variable speed (EVS) control lets you select the right speed for a particular material, or slows the motor speed as required to use larger, job-specific bits.
In addition, the electronic module maintains speed when the motor begins to slow down under heavy loads and has a maximum-load-sensing feature that helps prevent motor burnout in extreme conditions.



One of the best things about the EVS circuit is its "soft-start" function that causes the motor to speed up gradually without the high starting torque that can jerk the tool out of position. Most plunge routers have this feature, and it's now available in some fixed-base machines as well. Having this feature is worth serious consideration, especially if you plan to run larger bits or mount your router in a table.
Fine Adjustment
For satisfactory results, the router's bit position must be set accurately. Many newer routers have sophisticated fine-adjustment mechanisms, which allow you to precisely set cutting depth. This feature is especially useful for inlay work, dovetails, and other jobs which require precise bit positioning for successful results. If you plan to use your tool in a router table, it's also important to select a fine adjustment that will work when the router is mounted upside-down.
Switches, Handles and Levers
Handles and controls should be easy to use. Try several tools before deciding which router feels best. Plunge router locking levers should be easy to reach and use. Many users prefer a spring-loaded lever, which locks the motor in place when released. Switches on both plunge and fixed-base routers should be easy to reach and operate. On well-designed motors, the switches can be serviced or replaced without major disassembly.
Collets
The collet is the part of the motor spindle that holds the bit and is designed to firmly grip the bit shaft and keep it running true and straight. A good-quality collet should be long enough to grip the bit firmly and has several precisely machined slots to let this collet compress evenly for maximum holding power.
With a few exceptions, quality routers have collets which are "self-releasing" to prevent the annoyance of stuck bits. A self-releasing collet is designed so that its nut pulls it free of the motor shaft, thereby releasing the grip on the bit shank. Though often overlooked, router collets are an important feature which should be considered before making a purchase.
Table Mounting
If you plan to use your router in a table, even part time, it's very important to determine if the tool you are considering is suitable for this service. Both plunge and fixed-base routers work well for this; even experts differ on which one is best. Some important considerations are the size of the base opening (with the plastic sub-base removed), height adjustment mechanism, and method of bit changing. On plunge routers, a spindle lock can be an advantage, and the quality and comfort of the collet nut wrench are always important. Strong, forged collet nut wrenches are more comfortable and last longer than wrenches made from stamped steel. If you're in doubt about table compatibility, check with the Tool World manager at Lowe's or the router manufacturer.
Chip Collection
Many newer routers offer chip collection, and if this is important to you, it's worth considering. If not a standard feature, check to see if it's available as an accessory. Keep in mind that all router chip collection systems require an external shop vacuum with hose, and you may not want to use the hose and vacuum in all circumstances. Good chip collection systems won't block your view of the bit or otherwise get in the way.
Accessories
Quality accessories are necessary to obtain good results with any router, so choose them carefully. For anything but occasional use, carbide-tipped router bits offer the best value because they last longer, produce a fine finish that requires little or no sanding, and can be re-sharpened many times.
You'll also need a way to guide the router, which can range from self-piloted bits with ball bearing guides, to template guide sets and adjustable edge guides.
There are also many specialized accessories for making dovetails, mortises, and other intricate cuts, and quality router tables are very popular because they allow the router to perform the work of a small shaper. And don't forget to buy goggles, hearing protection, and a dust mask or respirator. Even with chip collection, wood particles can irritate nasal passages and lungs.
If you're new to routers, you'll be glad to know that Lowe's carries a wide range of "how-to" books that provide valuable tips which will help make your woodworking safer and more fun.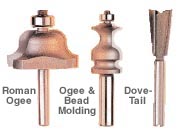 There's nothing like a "hands-on" experience to assure that the router you buy is one that you will be happy to use for many years to come.