A workshop is not complete without a mitre saw. But what's the difference between a mitre saw, a compound mitre saw and a sliding compound mitre saw? Keep reading and we'll help you complete your shop with saw that's perfect for you.
Model Variations
Mitre saws are available in three different models:
Mitre Saw motors are mounted on a swing arm that pivots left or right to produce angled cuts.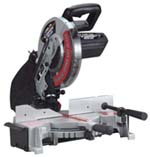 Compound Mitre Saw Compound Mitre Saws
Compound Mitre Saws motors swing left and right and tilt for bevelled cuts. Tilting the saw on both of its axes at once yields a compound mitre cut. Compound mitre saws are useful for picture frames, crown moulding, or any project that requires angled cuts in two planes. They are slightly more expensive than regular mitre saws, but the advantage of making compound cuts in one pass is well worth the price.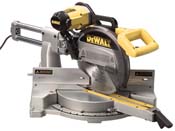 Sliding Compound Mitre Saw Sliding Compound Mitre Saw
Sliding Compound Mitre Saws have all the versatility of compound mitre saws and a sliding feature, similar to a radial arm saw. The major advantage of the sliding feature is the increased length of cut it provides. Some sliding saws can make crosscuts in excess of 11".
Features
Having some of the extra bells and whistles available can make your work easier. A few common features include:
Blade Size is an important consideration in selecting a mitre saw. The most common mitre saw sizes are 8", 10", and 12". Keep in mind that larger diameter blades are able to make longer cuts.

Positive Stops are factory set points that allow precise cuts on specific angles. More positive stops mean less setup time.

Self-Retracting Blade Guards keep the guard clear of the stock, so you have a better view of the cutting line. When the saw is raised, the guard is lowered to completely cover the blade.

Electric Brakes reverse the flow of electricity in the saw motor when the trigger is released. Reversing the current stops the blade's momentum quickly. Electric brakes can stop the blade in as little as two seconds, compared to up to twelve seconds for a saw without this feature.

Dust Bags mount directly to the saw and collect sawdust.

Table Extensions mount on the sides of the saw and balance longer stock to give an accurate cut.

Sliding Fences give added support to tall stock during regular mitre cuts and slide out of the way for bevel cuts.

Portable Stands give the saw a sturdy base and increase operational safety in almost any environment.
Blades
The most important part of the saw is the blade. Different blades are available for different applications. A few common blades include:
Steel Blades are inexpensive and work well for cutting softwood but dull quickly in hardwood.

High-Speed Steel Blades are harder than steel blades and stay sharper longer.

Carbide-Tipped Blades are more expensive than other blades, but they stay sharper much longer than steel or high-speed steel.

SAFETY NOTE: Always unplug power tools when servicing them. Shaft Locks immobilize the shaft and blade, making it much easier to change the blade.